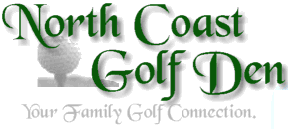 Golf club repair

regripping

re-shaft

Custom club fitting

Custom club building...

Call Gary at 440-992-8666
and leave a detailed message...we will return your call at our earliest possible opportunity.
News and Information ¤ Logo Golf Balls

Want to give a gift but don't know what golfing items a person has?
No problem! North Coast Golf Den now has gift certificates
for in-store and mail-order purchases!
Click here for more information.

Site owned by North Coast Golf Den
and maintained by


Last updated 20 June 2008